As many of you may have heard in the news, Russia is moving in on the Ukraine city of Crimea due to the Ukraine being very hostile. What I've seen through British news, Russia have blocked two Ukrainian warships for leaving the harbour and that Russia has taken over the Crimea airbase.
An estimated amount of 15,000 soldiers are being sent in along with 880 tanks and 90 aircraft. But thats nothing compared to what they have as back up.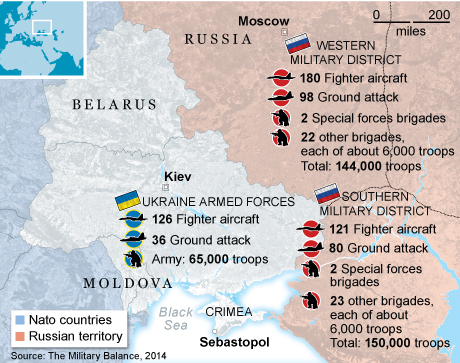 I am supporting Russia's actions in this case as the Ukrainian government have really been treating their people like they're peasants. However this is really causing huge unrest in NATO and the UN. If America really push through with their demands this could re-spark the cold war.
The crimea is a region, not a city.

Secondly, Russia's fallout of the USSR lead to Ukraine being in it's current disposition. Things will only worsen with a Russian seizure.
The people in the Ukraine are very pro Russian, I believe that the Ukrainian government isn't giving them a fair trial.
Also the Ukraine joining NATO will just give the west another way to threaten Russia by surrounding it with NATO countries.
A lot of the Ukrainian soldiers want to fight with the Russians. I can't find the video with subtitles in it but the Ukrainian commanding officer said to the Russian soldiers "Would you shoot at the Soviet flag?"
This issue being debated and brought up has Ukrainian favoritism as a sideshow. The real underlying message is how the 'west' is going to respond. The balance of power isn't much of a balance. It's the US and her allies who are attempting to decide how the world is run, with eastern powers such as Russia and China pushing back against them.

Food for World War III? A possibility, if politicians continue to become more incompetent on both sides. As much as some people may advocate against it , World War III has a large possibility of becoming a nuclear war. Any intelligent human being understands this.

As with Putin, if he had waited for the Ukrainian people to decide fully, not his soldiers, then it would be a whole different story.
i hope not for world war III. I want this WWII to be the end of all world wars.



Posts

: 121


Join date

: 2013-05-29


Age

: 18



Shamefully, yes world war three would lead to nuclear warfare. If people were smarter, they would realise that nuclear warfare would result in no winner, both sides will destroy each other and the radiation will slowly effect everyone else.
Also shamefully if America get involved, without a doubt they will drag Britain and everyone else in it as well.
I doubt the fact of WW3 but resparking the Cold War is more likely.
Putin however, he wants to look tough compared to the other nations leaders. He seems to me more as a dictator then a president. I do respect Putin in some ways though, a tougher leader is normally a better one. Example, the little shit leader we currently have in Britain David Cameron is weak and pathetic whilst our old leaders like Winston Churchill or Margaret Thatcher who stood up to the IRA and stopped the Argentinians from trying to wrongly take back the Falklands. Putin is standing his ground, it may be wrong in some eyes but for others, its the right thing to do.
I do like conservatives and economic growth under capitalism.
let's just hope it dosen't get too rough.



Posts

: 121


Join date

: 2013-05-29


Age

: 18





Similar topics
---
Permissions in this forum:
You
cannot
reply to topics in this forum